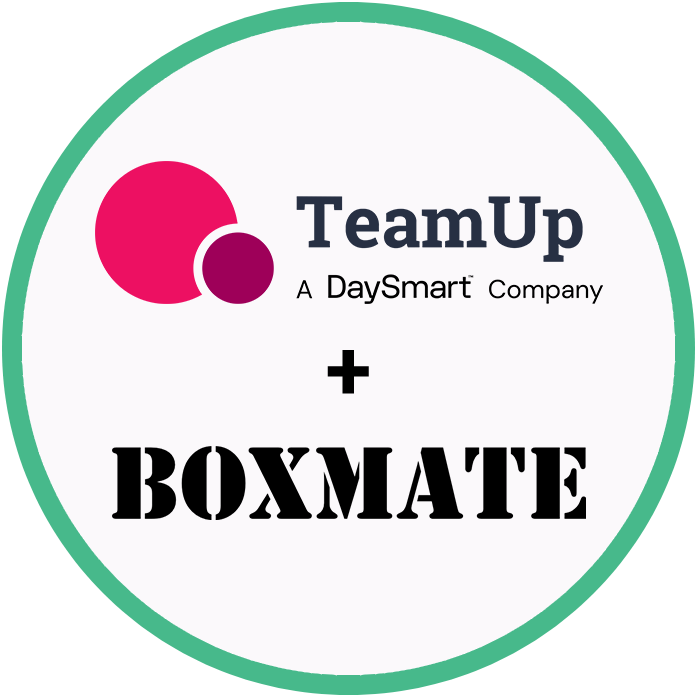 Sign up to TeamUp + BoxMate Today
Take advantage of our exclusive new customer offer and secure your fixed price of £99* per month for both systems for the next 12 months.
" One of the best decisions we made when setting up 'The Project'. BoxMate keeps everything running smooth for us, and our members love it. Exceptional customer service and support from setup to everyday activity as well as the seamless integration with TeamUp for all things class booking. "
Elliot Turner | The Project
*This exclusive offer is for gyms brand new to TeamUp and BoxMate. Gyms will have access to TeamUp at £49 monthly with BoxMate PLUS at £49 + VAT fixed for one year. After 12 months, both systems will charge the applicable standard rate. Existing customers of either system cannot claim this offer. Cancellation within 12 months of either system will move you onto the standard rate. This offer will end on 31st December 2023.
How do I sign up?
STEP 1
Complete the form on the right to claim your offer and create your TeamUp account.
STEP 2
Once TeamUp is configured, BoxMate will be bolted on by the BoxMate team and will give your members a single app to do everything.
Why TeamUp & BoxMate?
Membership management, payments and class scheduling are made simple with TeamUp. Onboard your members easily with waivers, automated emails, appointment bookings and much more.
BoxMate brings you performance tracking, communication tools, 1-1 messaging, CRM and reporting features to help you run your gym business efficiently and keep your members connected, engaged and on top of their training.
With TeamUp and BoxMate, your members have a single app to do it all. Members will book their TeamUp classes, view and track your programming, receive communications from you, and engage with their friends in the gym community - all from one app.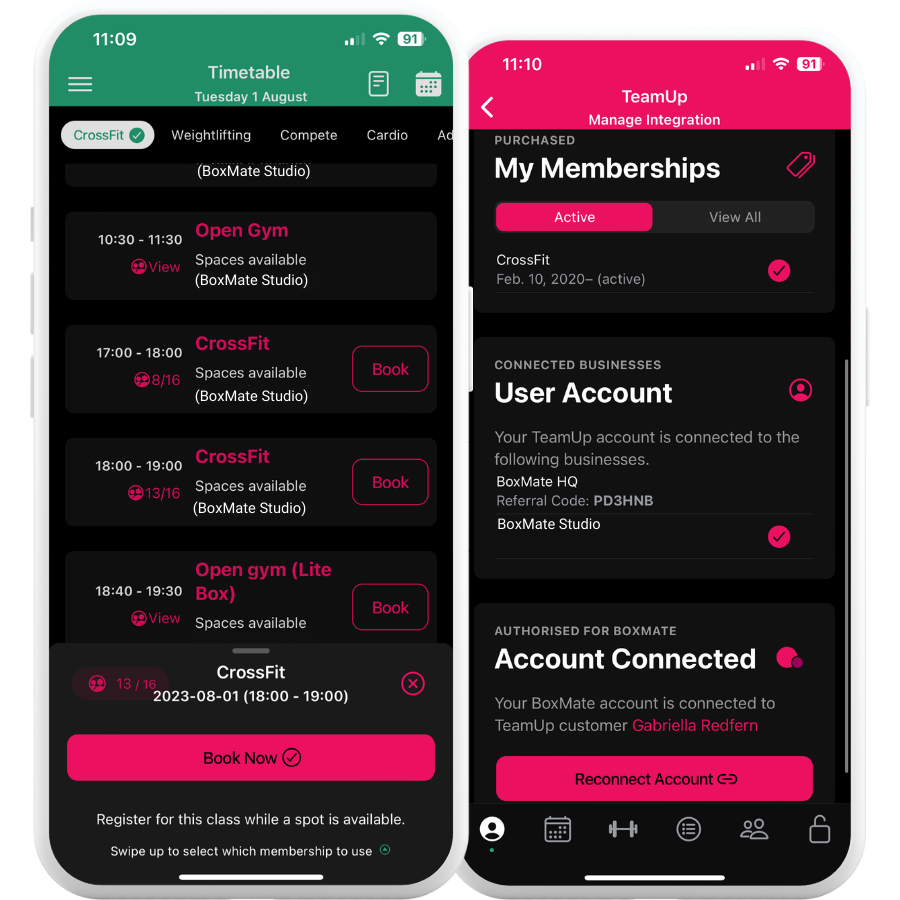 BoxMate's CRM system is fully integrated with TeamUp, meaning that all leads and customers will be automatically progressed through your sign-up funnel as they purchase trial and full memberships. You can schedule in introduction classes for leads, mark these as attended, and send out personalised information emails to leads and new customers with a simple click.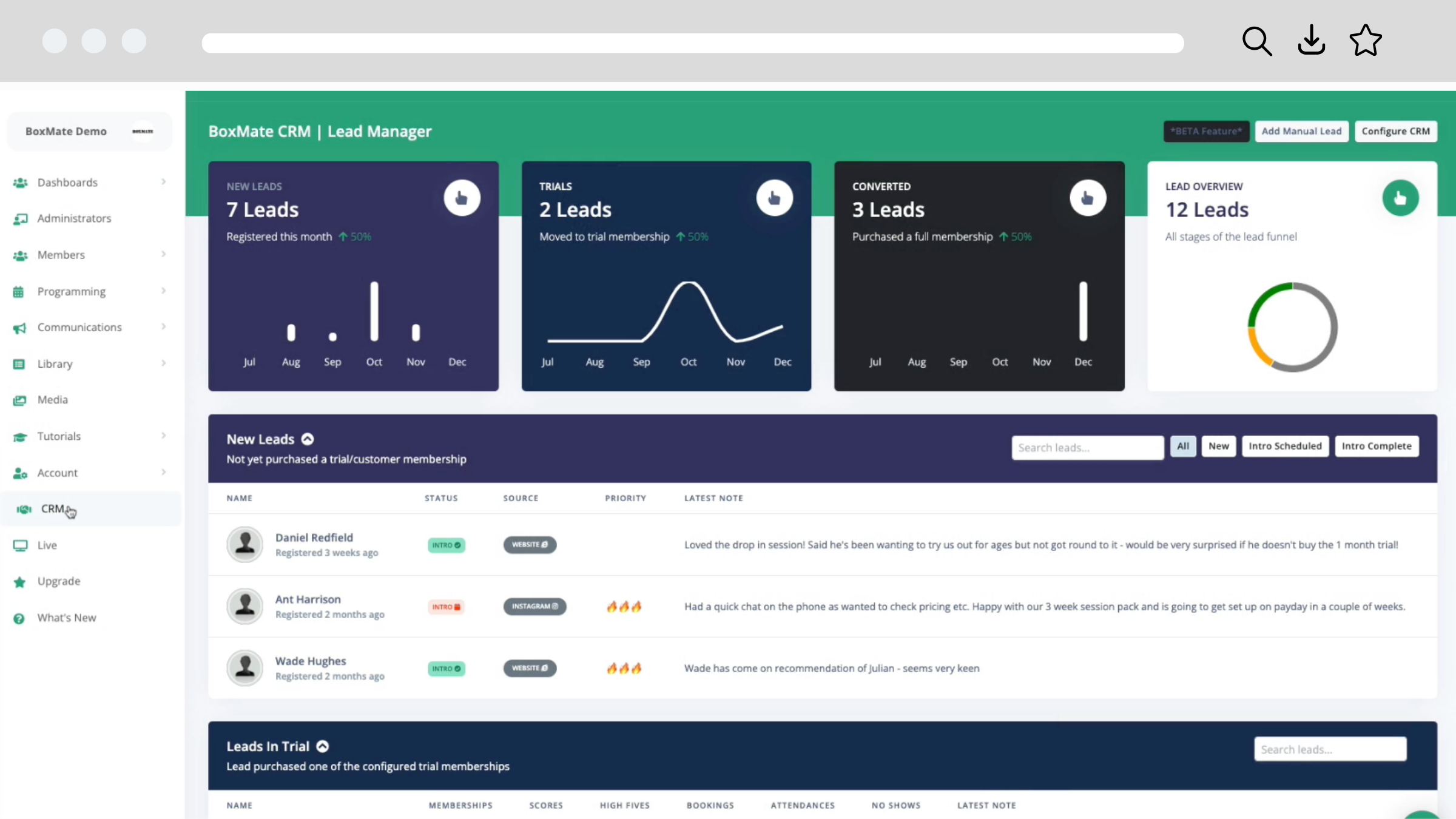 Inside BoxMate your key business metrics will be pulled through and displayed in your Business Health Dashboard. Keep an eye on your gym's growth and make those important business decisions based off real time data about class attendances, popularity and more.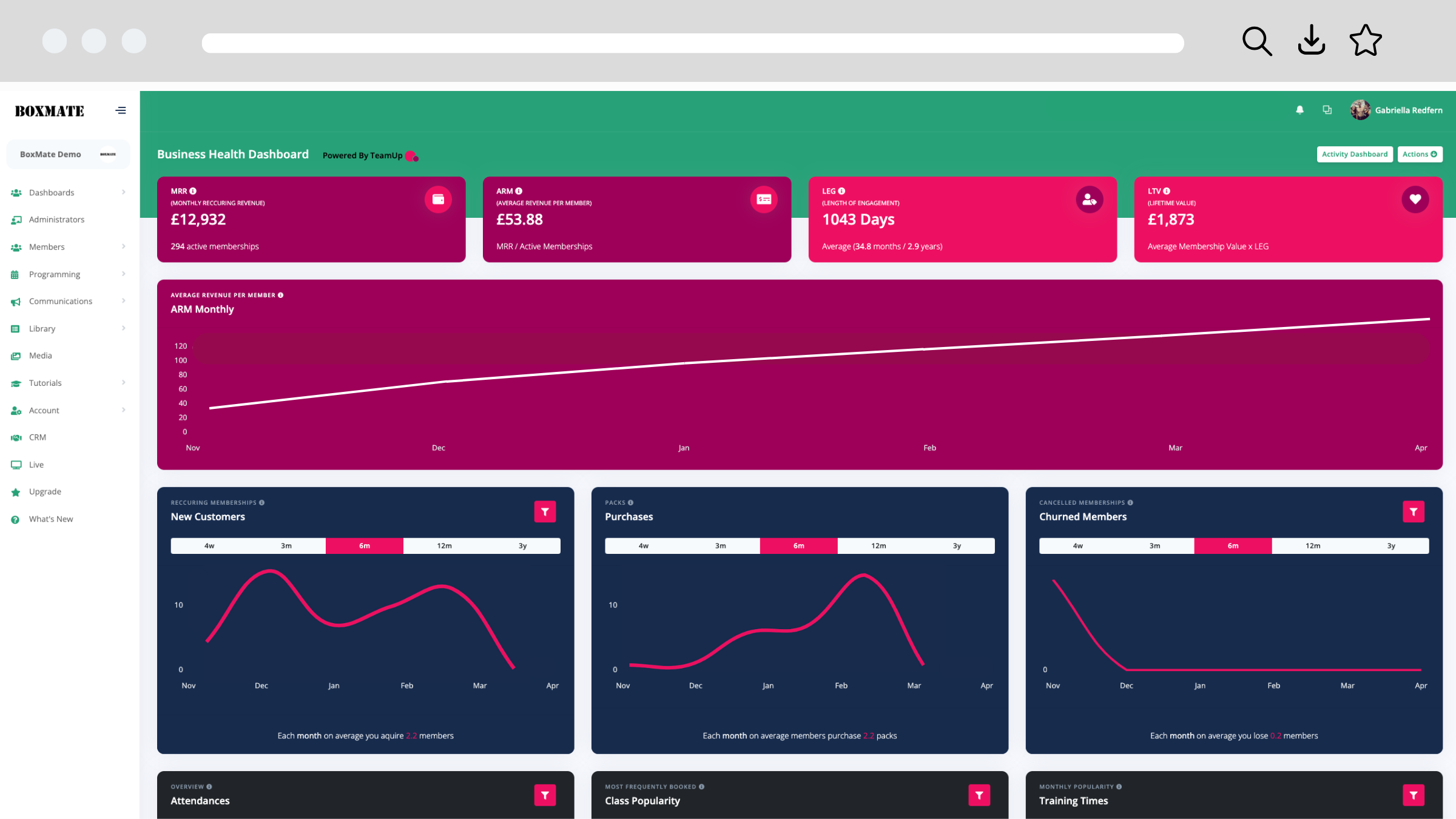 Why would I choose 2 systems over an all-in-one?
A good question with a simple answer. An all-in-one does a bit of everything, whereas TeamUp and BoxMate are highly specialized platforms. Our deep integration means you get the very best of two powerful systems, allowing your members to do everything from one space.
What if I already use another system?
Our seamless import process means your members, payments, memberships, and workout tracking data can be easily moved across to TeamUp & BoxMate for a smooth switch.
Start managing your gym effortlessly